Nectar Leaf is committed to advancing the understanding of beneficial properties of natural products. We pride ourselves in bringing to you the highest quality extracts from Coffea (the coffee plant), Mitragyna Speciosa (the kratom tree), and Cannabidiol (CBD) to better you both mentally and physically. We understand that most people seek out background information regarding the products that they use, and we are happy to share. 
We stand by every product we sell with a strong customer service and support network to help you through your process of purchasing the right product. We will not sell any products that tests positive for known residual solvents or any toxins or dangerous heavy metals. 
The Nectar Leaf Experience
We ensure that we source affordable, high quality products from around the globe in a responsible manner.
All orders placed Monday-Friday before 2pm Eastern/11am Pacific ships same day, excluding holidays.
We use industry standard TLS to secure all communications with our site. You can trust that your payment information is always secure.
Kratom is prohibited in several states, cities, and counties. We are unable to ship to the following states: Alabama, Arkansas, Indiana, Rhode Island, Tennessee, Washington DC, and Wisconsin. We're also unable to ship to Denver, Colorado and San Diego, California.
Mexico has been an increasing popular location for kratom over the last few years. Kratom and any of its active elements, Mitragynine and 7-hydroxymitragynine, have not been added to any list of controlled substances in Mexico. It is also not considered a regulated substance which means it is completely legal for you to carry and use in Mexico.
While kratom has enjoyed a huge burst of popularity in the United States which has brought on safe manufacturing processes, Mexico is still a relatively new market for this plant. This means that sellers of kratom in Mexico currently do not have any regulations regarding the products they can sell and how it is labeled. This is something you should be careful of when ordering or purchasing any kratom.
You are, however, able to legally purchase kratom in a few places in Mexico although it may be difficult to find. For those who are looking for a safe, tested product, we offer several shipping options to Mexico for your convenience. 
According to the CFIA (Canadian Food Inspection Agency) and Health Canada, the two institutions in charge of scheduling substances, Kratom and its components are not considered safe for human consumption. However, it is not constituted as an illegal substance in Canada and can be obtained as "not safe for human consumption" product. Kratom is often sold with this designation to begin with so importing of kratom is not an issue.
A fact that you may (or may not) know is that Coffea and Mitragyna Speciosa are both genera of flowering plants in the Rubiaceae family. A distinction that makes them cousins! The Rubiaceae family, or also commonly known as the madder or coffee family, consists of over 610 genera and 13,150 species of various shrubs (the most common), herbs and trees. It is the fourth largest family of angiosperms (plants that have flowers and produce seeds). The family is present all over the globe, minus polar regions and deserts, but are most commonly found in tropical regions.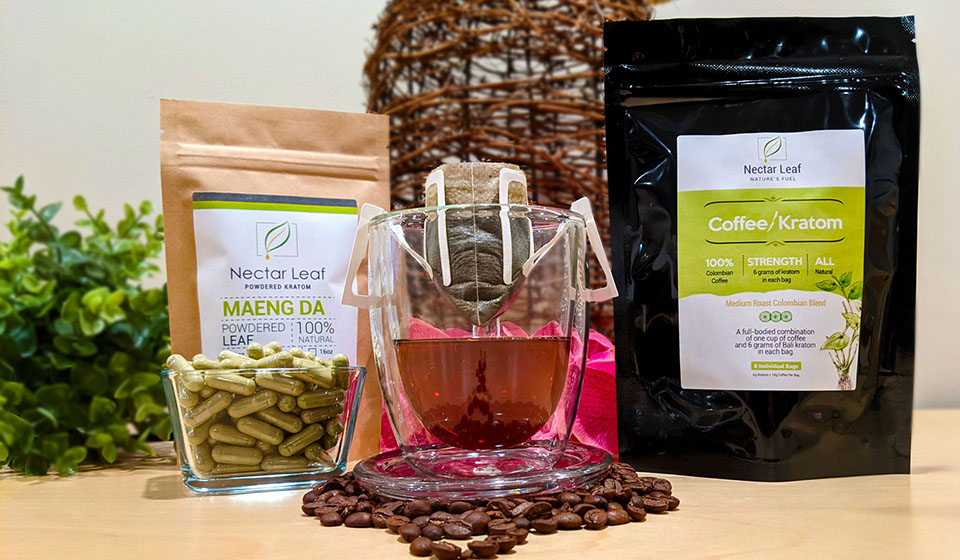 CBD | Kratom Capsules and Tablets
Explore all of our products today!
Nectar Leaf Customer Support
Contact Us For Any Questions You Have!